Research Reviews for Media Development Practitioners
These research reviews inform practitioners and researchers about key debates, evidence and emerging issues in international media development. They provide concise analyses of current research, both academic and non-academic, and discuss its practical relevance for international media assistance.
---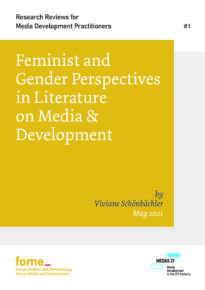 #1: Feminist and Gender Perspectives in Literature on Media & Development
by Viviane Schönbächler
Gender remains an under-researched topic in the literature on media and development. A brief evaluation of seven books on media development and media for development shows that only 2% of pages are devoted to gender and feminist issues and that 'gender' and 'women' are often framed in narrow, binary ways. It is the field of Gender Media Studies and development communication that contributes most significantly to the literature on gender in media development. Grey literature and research on information and communication technologies (ICTs) for development also contribute to the current research on media, gender, and development. Nonetheless, this literature review identifies the emerging field of African Gender Media Studies as the most varied and promising field of research with respect to the assessment of gender perspectives in media development, particularly on the African continent.
---