Directions to Mozilla Berlin
Mozilla's Berlin office is in Schlesische Straße 27, 10997 Berlin. To reach Mozilla from the FoME Symposium with public transport you can board the bus right in front of the conference venue at the stop Nordische Botschaften/Adenauer-Stiftung.
You either take Bus 106 (direction Lindenhof) or Bus 187 (direction Lankwitz, Halbauer Weg) and get off at U Nollendorfplatz. There you transfer to the subway U1 (up the stairs to the elevated part of the station, direction Warschauer Straße) for 9 stops to U Schlesisches Tor. From there it is about 500 meters by foot: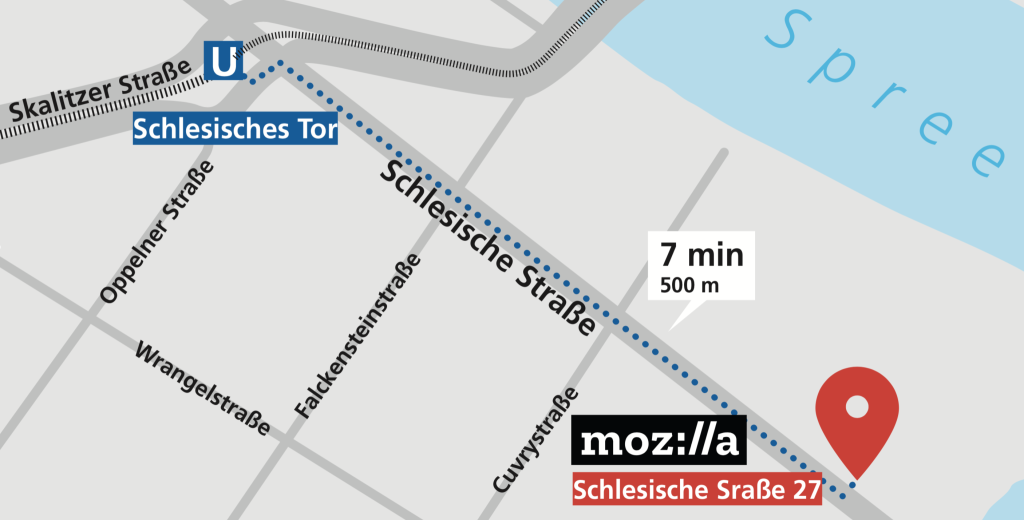 You can shorten the walk by taking the Bus 165 (direction Köpenick, Müggelschlößchenweg) or Bus 265 (direction S Schöneweide) for 2 stops and get off at Taborstraße, right in front of the Mozilla office.
You can buy the necessary ticket for zone "AB" from the bus driver for 2,80 Euros (cash only! This is Berlin, capital of one of the most advanced economies in the world, after all…). You only need this one ticket for the entire journey; don't buy a new one when you transfer. In case you transfer to a bus you need to present the ticket to the driver when boarding. You will also need to present it to a ticket inspector in case you are lucky enough to encounter a control on the subway. Without a valid ticket you will be fined 60 Euros; negotiations with inspectors are for the fearless only and even then utterly hopeless.
A good option is to share a taxi for a cost of approx. 20 Euros. A regular taxi will seat four passengers with light luggage. You can order a taxi by calling +49.30.202020 or using the MyTaxi or Uber apps (there's no "real" Uber service in Berlin but you can use the app to order a taxi).
Mozilla's offce and event space are located in Haus 3 on the 6th foor. You need to go through the courtyard towards the far left corner. Signs will guide you.